The Hot Lee Tergesen!!!!!!!!!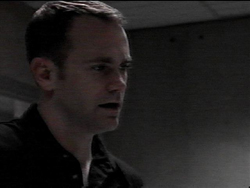 Hi our names are marina and Andrea and we love Lee Tergeson sooooooooooooooo much we think he is SOOOOOOOO HOT!!!! :) :) :) :) :) :) :) :) :) We think he is really cute and hes soooooo good as Toby Beacher in the best show in teh world and that is OZ!!!!!!!!!!!!!!!!!!
If you dont know what OZ is then what rock have you been under but oh well OZ is a prison drama that's on HBO. It's really exciting and really good and best of all has lots and lots of LEE!!! But if your under 18 you might not want to watch it, it's really violent and has a lot of sex and nudity and homosexual sex in it!!!!!!!
In one scene Beacher kisses a guy!!!!! EWWW!!!!! But it doesnt matter cuz in real life Lee's not like that!!!!! Lee like's GIRLS!!!!

Also you might have seen Lee in the TV show WEIRD SCIENCE. He plays the ] older brother of Wyatt named Chett. He's really mean in the show, but we still love him of course 'cuz he's LEE!!!!